Cartridge Mechanical Seals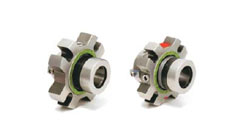 - Pre assembled units
- Balanced
- Independent of rotation
- Springs inside stationary
- Spring product protected

The cartridge seal, single o double, can be utilized for many application without any modification of the pump or of the equipment. The possibility to change the single component, independently of each other, makes this mechanical seal very appreciated and of easy application. Flanges according to ANSI - API - IP - DIN - ISO - JIS - can be accepted.